Mark 'Mr Beast' his beginning
In 1972 at age 18 Mark and his stepdad 'Ted' whilst living in Southam, Warwickshire and with the support of Mark's mum 'Pat' or 'Min' as she was better known bought a Bedford 35cwt and obtained work from Mark's Dad 'James' whom worked for BRS. Sadly James, Ted & Min are now no longer with us and are missed.
Mark started his trucking career delivering multiple drops around the Dock's in London.. As time progressed Mark & Ted then used a Bedford complete with trailer delivering Chrysler car shells, Avenger car shells and Dodge truck cabs from Hanger 5, Baginton to all over the UK.
Mark then met and befriended Jeff Moseley who was the boss of Morton's transport who along with his son 'Phil' had set up a new company called Moseley Trucking. Mark started working for Moseley's as a sub-contractor taking Ford Escort Car body shells from Ford at Halewood to Ireland twice a week starting firstly with the Bedford CF and then bought a Mercedes 306 from Moseley's then furthermore changed this one for a bright orange Mercedes 406 with as Mark fondly remembers 'Michelin Men' on the bonnet!
Due to the increased amount of nights out Mark & Ted then purchased a Mercedes 508 which he and his Stepdad had converted, extended and a sleeper cab was fitted to it. Mark was still carrying on with the Irish job and also delivering right up to the Highlands of Scotland in particularly Turriff. Mark recalls the Mercedes 508 with the trailer on it could carry 6 body shells in total.
Soon enough though Mark now older wanted to drive "artics" and went to work as a driver for Vince Sweeney from Rugby on a Ford Transcontinental 290E Southern Irish registration number 6501LI running Beef from Cork and Clonmel out to North Africa / Algiers sub-contracting for 'Ferrywheel Transport'.
After Vince Sweeney, Mark then went to work for a man that was to become a huge friend to Mark, Mr Rod Saunders from Long Itchington (now still going and at Ryton on Dunsmore)
Mark was driving a Scania 111 for Rod pulling a tanker for IBIS Transport to begin with and then Mark started driving what was to become his first ever owner operator artic truck, a Volvo F12 330bhp registration number XYT 242T that belonged to Dick Craddock at the time from Maidstone. Mark still worked for Rod Saunders during this time when Dick Craddock was looking to sell the truck complete with the work which was regular and for Anglo Overseas from Erdington near Birmingham running with Groupage out to Belgium, Holland and Germany.
Mark really enjoyed the work and with Mr Rod Saunders best wishes Mark ended up purchasing the truck along with the work from Anglo Overseas for himself.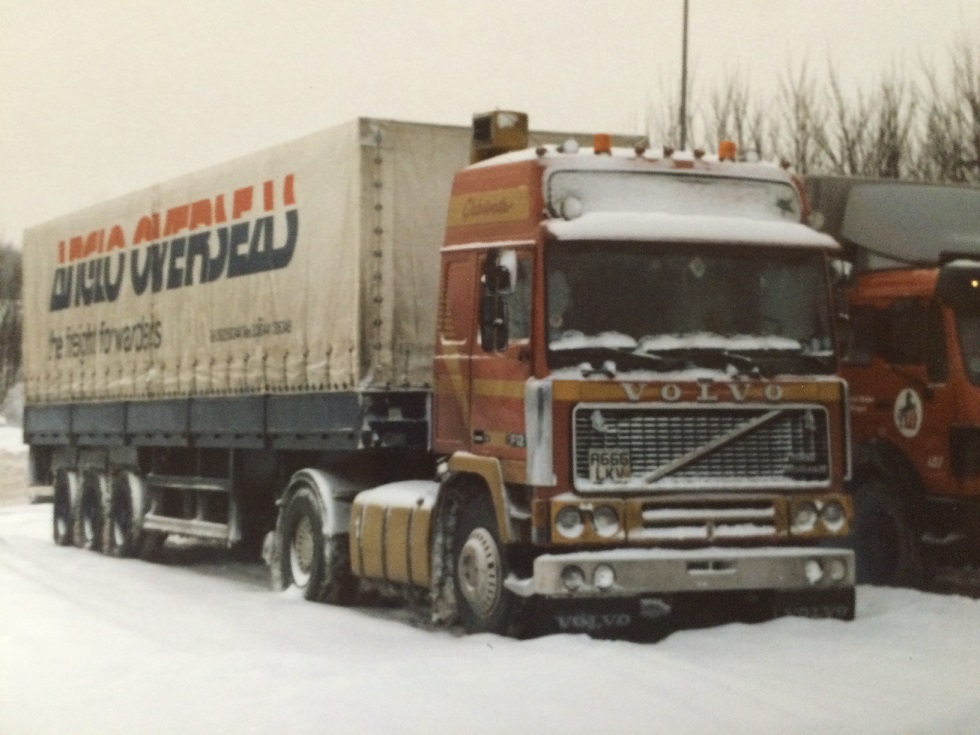 XYT 242T had a fresh coat of paint somewhere along the way and worked faithfully up until the purchase of Mark's first ever new truck, the absolutely stunning red and gold A666 LKV. A Volvo F12 385bhp Globetrotter which was to be as much of a custom truck show winner as it was a head turner and featured in Headlight magazine in September 1987.